Mission in Action is a committee of Session chaired by Elder Abbey Novonty. Through this committee, mission projects and mission opportunities are organized.
Projects during the pandemic:
Supporting the care workers in our hospital and local nursing homes.
Grove Manor Nursing Home, Orchard Manor Nursing Home and Quality Life Services employees were supported through love posters where members demonstrated support by signs placed outside their facilities to offer encouragement.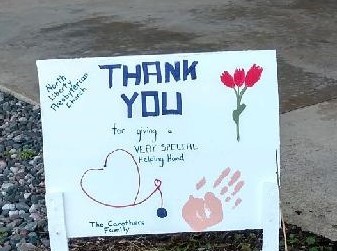 Lunches were provided during the first week before other lunch programs were established.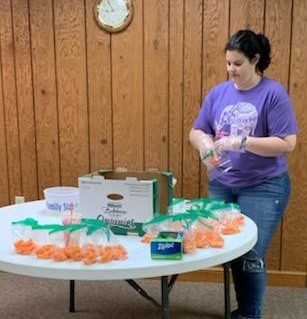 Sarah Coulter packs lunches with drinks
To view some of our activities connect with #nlpcmissiontrip on Instragram
You will see pictures of our 2019 trip to Harpswell, Maine. We have also traveled to Bluffton, SC and Roswell, New Mexico.
Masks: Janice McElhinny and Sue Mahaffey have dedicated hours to making washable cotton masks for those who need them. In the first week 58 masks were donated.